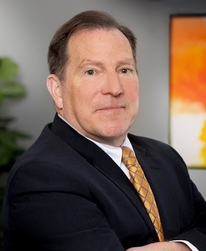 PRACTICES
Insurance Defense Litigation
Products Liability
Trucking & Automobile Litigation
Appellate Practice
EDUCATION
St. Louis University School of Law, St. Louis, Missouri
Juris Doctoris
St. Louis University Law Journal, Articles Editor

St. Louis University, St. Louis, Missouri
Bachelor of Science in Business Administration,
Degree in Accounting
ADMISSIONS
State of Missouri
State of Illinois
U.S. District Court - Eastern District of Missouri
U.S. District Court- Western District of Missouri
U.S. District Court - Southern District of Illinois
U.S. District Court - Central District of Illinois
U.S. Court of Appeals - Eighth Circuit
U.S. Court of Appeals - Seventh Circuit
CONTACT INFORMATION

V-Card
Michael Bub is an experienced trial attorney who has represented insurance companies and their
insureds for more than twenty-five years in hundreds of cases across Missouri and Illinois. He
has successfully defended product manufacturers and retailers in dozens of serious injury cases
involving allegedly defective products including automobiles, tires, hand tools, industrial
machinery, ambulance cots, swimming pools, bicycling equipment, and numerous other
products. He has also handled toxic tort cases, including cases involving exposure to asbestos
and benzene. Michael has also defended transportation companies, including trucking, truck
transportation, motor coach and student transportation companies. He has successfully argued
cases before the Missouri Court of Appeals, United States Court of Appeals for the Eighth
Circuit, and the Illinois Appellate Court, Fifth District.

Michael has achieved Martindale-Hubbell's AV rating, its highest rating for attorneys. He was
also named to the 2005, 2006, 2007, 2008, 2009, 2010, 2011, 2012, and 2013 editions of the
Missouri-Kansas Super Lawyers in Civil Litigation - Defense. In January 2007, he successfully
defended General Motors in a post-collision vehicle fire case in the City of St. Louis, Kline v.
GM, which was named as number three in the Missouri Lawyers Weekly Top Defense Verdicts
of 2007.

Representative Cases:

Theisen v. Stoddard County, Missouri: The plaintiffs contended that they were beaten,
subjected to excessive use of a taser, and sexually assaulted while imnates at the Stoddard
County Jail. Plaintiffs claimed millions of dollars in damages. After a week-long trial,
plaintiffs' asked the jury to award compensatory and punitive damages. The jury returned a
verdict in favor of the defendant.

Kline v. General Motors: The plaintiff contended that her daughter died from injuries resulting
from a post-collision fuel-fed fire allegedly caused by a defect in the vehicle's fuel system. After
a three week trial, the plaintiffs attorney asked the jury to award more than $10 million in
damages, and an additional award of punitive damages. The jury returned a verdict in favor of
General Motors.

Vivitoe v. Perno-Washington: This wrongful death products liability case arose from an
incident in which plaintiffs' decedent was being transported by hospital ambulance personnel.
Michael represented the manufacturer of a foldable ambulance cot. The decedent was being
transferred to the ambulance when the ambulance cot allegedly prematurely collapsed and rolled
on its side. On the first day of trial, after successfully eliminating most of the evidence against
the ambulance cot manufacturer, the manufacturer was dismissed.

Wilson v. Union Pacific: This FELA case was brought by a railroad engineer who slipped and
fell while exiting a bus, sustaining a herniated disc in his low back. Michael represented the
railroad and the hotel that leased the bus. The case was tried for three days. Toward the end of
the plaintiff's case, a mistrial was declared based upon plaintiffs counsel's misconduct. The
case was settled shortly thereafter. In a separate proceeding, Michael recovered the amount of
the settlement paid on behalf of his clients and all attorneys' fees incurred from the co-defendant's
insurance company.

Tenbarge v. Ames Taping Tool Systems: This products liability case arose from plaintiff's use
of an automatic taping tool used in the drywall industry. Michael represented the product
manufacturer. Plaintiff claimed his ten years of using the tool caused his carpal tunnel syndrome
and lateral epicondylitis. The jury returned a verdict for the defendant.

Interstate Indemnity Co. v. Utica Mutual Insurance Co.: This case involved a dispute between
a primary insurance carrier and an excess carrier. Michael represented the primary carrier. The
excess canier alleged that the primary carrier failed to settle the underlying case within its limits,
therefore the excess carrier had to pay $1 million from its limits to settle the case. The primary
carrier received a defendant's verdict.

Cannon v. Schnucks Transportation: Michael represented a motor carrier whose tractor trailer
backed up without warning and smashed into the front of plaintiff's vehicle. Plaintiff sustained
orthopedic injuries. The jury returned a modest verdict for the plaintiff that was significantly
less than plaintiff's pre-trial demand.

Williams v. Regal Riverfront Hotel: This case involved a slip and fall in a bathroom at a hotel
due to an allegedly defective floor tile. Michael represented the hotel. Plaintiff sustained
orthopedic injuries and claimed over $100,000.00 in medical expenses and past and future lost
wages. The jury returned a verdict for the plaintiff but found plaintiff 50% at fault and awarded
a relatively small amount of money.

Cicerelli v. McClure: This case involved a rear end collision. Michael represented an allegedly
negligent motorist. Plaintiff was pregnant at the time of the collision and her orthopedic surgeon
testified that plaintiff's pregnant condition exacerbated her orthopedic injuries. Plaintiff also
claimed emotional distress due to the potential injury to her fetus. The jury assessed plaintiff
10% at fault and awarded a very small amount of money.