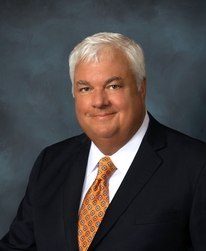 PRACTICES
Products Liability
Construction Litigation
Insurance Coverage, Bad Faith and Extra-Contractual Liability Litigation
Nursing Home and Day Care Center Negligence
Trucking & Automobile Litigation
Professional Liability
Legal Malpractice
Medical Malpractice
Governmental Entity Defense
EDUCATION
University of Missouri - Columbia, J.D. (1987)
University of Missouri - Columbia, B.S. (1984)
ADMISSIONS
State of Missouri
State of Kansas
United States District Court, Southern District of Illinois
United States District Court, Western and Eastern Districts of Missouri
United States District Court, District of Kansas
United States Court of Appeals, Eighth Circuit
United States Court of Appeals, Tenth Circuit
---
Professional Affiliations
Federation of Defense & Corporate Counsel
American Board of Trial Advocates
National Board of Trial Advocacy: Certified as Civil Trial Specialist
American College of Coverage Counsel, Fellow
Trucking Industry Defense Association
The Missouri Organization of Defense Lawyers
The Missouri Bar
The Kansas Bar
Kansas City Metropolitan Bar Association
Arizona Claims Association
Missouri Organization of Defense Lawyers Board of Directors (2008 -- 2009)
Editorial Board of national publication INSURANCE LAW & LITIGATION WEEK (2009-2014)
Claims and Litigation Management Alliance
John G. Schultz
Founding Member
CONTACT INFORMATION

V-Card
Mr. Schultz has acted as lead trial counsel in over 180 jury trials in six states. He has been inducted as a fellow into the American College of Trial Lawyers and the American College of Coverage Counsel. Mr. Schultz has been elected to the American Board of Trial Advocates and the Federation of Defense and Corporate Counsel. He is certified as a Civil Trial Specialist by the National Board of Trial Advocacy. Over three hundred opinions arising from his cases are published in the federal and state reporters.

Mr. Schultz is listed in Best Lawyers in America in Insurance Law, Product Liability Litigation and Personal Injury Litigation-Defense. He has been selected as a "Missouri/Kansas Super Lawyer" by Law and Politics Magazine every year since 2006. From 2009 to 2022 the Super Lawyers Magazine has recognized Mr. Schultz as one of the top 100 lawyers in Missouri and Kansas and one of the top 50 in Kansas City. He has been selected as "Best of the Bar" by the Kansas City Business Journal ten times. The Chambers USA 2020 and 2021 rankings list Mr. Schultz as "an incredibly good defense lawyer."

In 2023, Missouri Lawyers Media selected Mr. Schultz for The POWER List of Missouri's Top 100 Attorneys. Mr. Schultz was also named an "Influential Lawyer" by Missouri Lawyers Media. This recognition was "awarded to the newsmakers - the Missouri Lawyers who made substantial contributions to the legal community this year." Mr. Schultz's courtroom achievements were reported in the Kansas City Star, the Detroit News, the Miami Herald, the New York Times, the London Telegraph and Rolling Stone Magazine, as well as on ABC, Fox and CBS news.

In 2022, the Super Lawyers Magazine recognized Mr. Schultz as one of the Top 10 lawyers in Missouri and Kansas.

Mr. Schultz received a number of accolades in 2021. The U.S. News-Best Lawyers in America publication selected him as "Lawyer of the Year" in the field of "Personal Injury Litigation - Defendants." Missouri Lawyers Media named Mr. Schultz to its inaugural "The Power List" recognizing the 30 most powerful business defense attorneys in Missouri. Mr. Schultz was also bestowed with an ICON Award from Missouri Lawyers Media in recognition of his exemplary career and longstanding commitment to the Missouri legal community.

Mr. Schultz was featured on the cover of Ingram's Magazine in September 2014 as a "Legal Rainmaker." He was recognized by Ingrams again in November 2016 as a member of the inaugural class of "Ingram's 250-The Most Powerful Business Leaders in Greater Kansas City."

Boston-based BTI Consulting Group selected Mr. Schultz to its "2008 Client Service All-Star Team" based on a survey of corporate counsel at Fortune 1000 companies. Only 148 attorneys were singled out for this list. Mr. Schultz was one of only two attorneys in the United States to be selected for the third consecutive year. He was selected as a Client Service All Star again in 2013. In April 2013, Law360 reported that Mr. Schultz was one of "11 Exceptional Insurance Lawyers" named by corporate in-house attorneys for outstanding client service. In 2001, Missouri Lawyers Weekly selected his article "Investigating Your Own Expert" as the "Article of the Year". Mr. Schultz received the Thomas J. Conway Award for Outstanding Trial Work from the Kansas City Metropolitan Bar Association in 1999.

Mr. Schultz defends product liability, trucking, construction and intellectual property cases as well as medical and legal malpractice claims throughout the Midwest. He specializes in representing companies and institutions whose reputation and future are dependent on a successful resolution of the litigation (often referred to as "bet the company" cases). Self-insured corporations and reinsurance carriers seek Mr. Schultz's representation in highly sensitive or catastrophic injury cases that are not expected to settle before trial.

In recent years a significant part of Mr. Schultz's practice has been serving in the role of "parachute counsel." Insurance carriers often call on Mr. Schultz to step in and try a difficult case when existing defense counsel has hesitation or reservation about taking the case to a verdict. In that role, Mr. Schultz has an impressive record of favorable verdicts in cases tried in hostile venues with inflammatory evidence adverse to the defendant.
---
Recent Significant Trials:
J. Patrick Brooks et al v. Missouri Boys Ranch, et al., Case No. 16LW-CC00146 [Boys ranch found not liable for murder of plaintiff's mother by 2 boys who ran away from the ranch-7.6 to 21MM in actual damages requested.] #3 TOP DEFENSE VERDICT IN 2018 - MISSOURI LAWYERS WEEKLY.
Sanborn v. Worstell and United Fire & Casualty, Case No. 1522-CC00550 [Insurance company found not liable for $33MM judgment in St. Louis City Circuit Court.] #1 TOP DEFENSE VERDICT IN 2017 - MISSOURI LAWYERS WEEKLY.
James L. O'Conner v. Landvatter Ready Mix, Case. No. 14-SL-CC03641 [admitted liability case where permanently injured electrical lineman sought more than 3.2MM in damages from St. Louis County jury.].
Kozlov and Tchikobava v. Associated Wholesale Grocers, Inc. et al., Case Nos 4:10CV3211, 4:10CV3212 and 8:10CV3191, (U.S. District Court, District of Nebraska); [driver and passenger in tractor trailer rear-ended by another tractor trailer sought $6.3M in damages]
Jentz, et al. v. Con Agra, et al.; 3:10-CV-00474, (U.S. District Court, Southern District of Illinois); [3 workers burned in grain mill explosion sought over $100 million actual and $1 billion in punitive damages]
Walley v. LaPlata Volunteer Fire Dept., 02V010400396 (Adair County, Missouri); [$10 million sought by highway patrol officer permanently disabled from accident]
Thornton v. McCormack, 17V019701425 (Johnson County, Missouri); [$5 million actual damages sought for arm amputation]
Henderson v. Fields, 99CV208562 (Jackson County, Missouri); [$100 million in punitive damages sought in triple fatality case]
Clift v. Display Studios, Inc., 1997 WL 33104277 (St. Clairsville, Ohio) [Brain damage - truck accident]
Daniels v. Senior Care, Inc., 21 S.W.3d 133 (Mo. App. S.D. 2000) [Wrongful death - nursing home malpractice]
King v. G.W. Foods, Inc., 71 Fed. Appx. 770 (10th Cir. 2003) [Parapalegic - product liability]
Travis v. Stone and Apex, Inc., 66 W.W.3d 1 (Mo. App. 2002) [Wrongful death - truck accident]
Smith v. Shelter Mutual Ins. Co., 1999 WL 1581788 (Jackson County, MO) [Degloving injury to leg]
Woolfolk v. University Forest Nursing Care Center, 1999 WL 113241 (St. Louis City Circuit Court) [Wrongful death - nursing home malpractice]
Evers v. Lutheran Althenheim Society, 1995 WL 17007850 (St. Louis City Circuit Court) [Nursing home malpractice]
Berry v. It's a Kids World Day Care, [Starvation of foster child - day care negligence]
---
Reported Cases:
United Fire & Casualty Company v. Advantage Workers Compensation Insurance Company and Patriot Risk Services (United States District Court, W.D. Missouri) 2017 WL 2984274
Barnes v. St. Francis Community Services (United States District Court, D. Kansas) 2017 WL 2666099
Shophar v. City of Olathe (United States District Court, D. Kansas) 2017 WL 2618494
Lipp v. Ginger C, LLC (United States District Court, W.D. Missouri) 2017 WL 1363322
Oakes v. Repcon (United States District Court, D. Kansas) 2107 WL 951159
Harlan v. United Fire & Casualty (United States Court of Appeal, Tenth Circuit) 2017 WL 4863142
Dagnan v. St. John's Military School (United States District Court, D. Kansas) 2016 WL 7386280
Classico v. United Fire & Casualty 386 P. 3d Kan. App. 2016
Miller v. Sams 504 S.W.3d Mo. App. W.D. 2016
Brenneman v. Great Wolf Lodge (United States District Court, W.D. Missouri) 2016 WL 9132662
Boone v. TFI Family Services, Inc 2015 WL 5568348
Tempesta v. Marriott (United States District Court, E.D. Missouri) 2015 WL 5530323
Scottsdale Insurance v. Addison Insurance 448 S.W. 3d 818 Mo. banc. 2014
Kozlov v. Associated Wholesale Grocers, Inc., 2014 WL 4534787 (D.Neb. Sept. 11, 2014)
Oppenheimer v. Lint, 2014 WL 3611676 (D.Kan. Jul. 22, 2014)
Sauvain v. Acceptance Indem. Ins. Co., 437 S.W.3d 296 (Mo. App. 2014)
Barkley v. McKeever Enterprises, Inc., 2014 WL 1428408 (Mo. App. 2014)
Baker v. Martin Marietta Materials, Inc., 745 F.3d 919 (8th Cir. 2014)
Missouri United School Ins. Council v. Hunt, 2014 WL 554692 (W.D.Mo. Feb. 11, 2014)
Elgin v. McKay (United States District Court, E.D. Missouri) 2014 WL 294424
Argonaut Great Cent. Ins. Co. v. Valley Village, LLC, 2013 WL 5567710 (E.D.Mo. Oct. 9, 2013)
National American Ins. Co. v. ConAgra Foods, Inc., 949 F.Supp.2d 790 (S.D. Ill. Jun. 25, 2013)
United Fire & Cas. Co. v. Thompson, 949 F.Supp.2d 922 (E.D. Mo. Apr. 26, 2013)
Jentz v. ConAgra Foods, Inc., 2013 WL 498727 (S.D. Ill. Feb. 8, 2013)
Secura Insurance v. Horizon Plumbing, Inc., et al., 670 F.3d 857 (8th Cir. 2012)
Walley v. LaPlata Volunteer Fire Dept., 2012 WL 2012 912736 (Mo. App. W.D. 2012)
Gear Automotive v. Acceptance Ins., 2011 WL 2976827 (U.S. District Court, Western District of Mo. 2012)
United Fire & Casualty Ins. Co. v. Thompson, 2011 WL 3847256 (U.S. District Court, Eastern District Mo. 2011)
Sauvain v. Acceptance Indemnity Ins. Co., 339 S.W.3d 555 (Mo. App. W.D. 2011)
Pennsylvania Mfgrs. Assn. Ins. Co. v. Selective Ins. Co., 331 S.W.3d 721 (Mo. App. 2011)
Thomas v. Brewer's Food Mart, 219 P.3d 1243 (Kan. App. 2009)
Battles v. United Fire & Casualty Ins., 295 S.W.3d 486 (Mo. App. W.D. 2009)
Baker v. C.J. Grewe, 241 S.W.3d 420 (Mo. App. E.D. 2007)
Billings Mut. Ins. Co. v. Cameron Mut. Ins. Co., 2007 W.L.1345906 (Mo. App. 2007)
Thompson v. Tuggle, 183 S.W.3d 611 (Mo. App. 2006)
Burdett v. Harrah's Kansas Casino Corp., 311 F. Supp. 1166 (2004)
Udell v. Kansas Counselors, Inc., 2004 WL 785065 (D. Kan. 2004)
King v. G&W Foods, Inc., 71 Fed. App. 770 (10th Cir. 2003)
Hanlon Chemical Co., Inc. v. United Fire & Casualty, 2003 WL22466190 (D. Kan. 2003)
Ingram v. Rinehart, 108 S.W.3d 783 (Mo. App. 2003)
King v. G & W Food, Inc., 71 Fed.Appx. 770 (10th Cir. 2003)
Holler v. Cinemark USA, Inc., 185 F. Supp. 2d 1242 (D. Kan. 2002)
Vaughn v. United Fire & Casualty, 90 S.W. 3d 220 (Mo. App. 2002)
Walton v. American Family Insurance, 1994 WL 409615 (D. Kan. 2002)
Vaughan v. United Fire & Cas. Co., 90 S.W.3d 220 (Mo. App. 2002)
Travis v. Stone, 66 S.W.3d 1 (Mo. 2002)
Jones v. Reliable Security, 28 P.3d 1051 (Kan. App. 2001)
Henderson v. Fields, 68 S.W.3d 455 (Mo. App. 2001)
Travis v. Stone, 200 WL 1878991 (Mo. App. 2000)
Hare v. Cole, 25 S.W.3d 617 (Mo. App. 2000)
Daniels v. Senior Care, Inc., 21 S.W. 3d 133 (Mo. App. 2000)
Overcast v. Billings Mutual Ins. Co., 11 S.W.3d 62 (Mo. 2000)
Joseph v. Marriott International, 967 S.W. 2d 624 (Mo. App. 1998)
Central Associated Carriers v. Nickelberry, 995 F. Supp. 1031 (1998)
Breckenridge v. Meierhoffer-Fleeman Funeral Home, 941 S.W. 2d 609 (Mo. App. 1997)
Capitol Indemn. Corp. v. Callis, 963 S.W.2d 247 (Mo. App. 1997)
Taylor v. Republic Automotive Parts, Inc., 950 S.W.2d 318 (Mo. App. 1997)
Pennel v. Criger, 936 S.W.2d 905 (Mo. App. 1997)
United of Omaha v. Business Men's Assur. Co. of America, 104 F.3d 1034 (8th Cir. 1997)
Murray v. Lamont, 931 S.W. 2d 899 (Mo. App. 1996)
Gamble v. Bost, 901 S.W. 2d 182 (Mo. App. 1995)
Pearson v. Lutheran High School Ass'n of St. Louis, 910 S.W.2d 318 (Mo. App. 1995)
Anderson v. Accurso, 899 S.W.2d 938 (Mo. App. 1995)
Stuart v. Mills, 899 S.W.2d 156 (Mo. App. 1995)
U.S. v. Jenkins, 52 F.3d 743 (8th Cir. 1995)
Gabriel v. Shelter Mut. Ins. Co., 897 S.W.2d 199 (Mo. App. 1995)
United of Omaha v. BMA, 1994 WL 627887 (W.D. Mo. 1994)
Capitol Indemn. Corp. v. JCDM, Inc., 892 S.W.2d 638 (Mo. App. 1994)
U.S. v. Scott, 26 F.3d 1458 (8th Cir. 1994)
American Family Mutual Ins. Co. v. Kohrs, 1193 WL 289170 (D. Kan 1993)
City of Kansas City, Mo. v. Koklas, 849 S.W.2d 716 (Mo. App. 1993)
Capitol Indem. Corp. v. Miles, 978 F.2d 437 (8th Cir. 1992)
Stolfus v. Musselman & Hall Const., Inc., 845 S.W. 2d 565 (Mo. App. 1992)
Lewis v. El Torito Restaurants, Inc., 806 S.W.2d 46 (Mo. App. 1991)
---
Speaker/Lecturer/Publications:
Recent Developments in Bad Faith Litigation - Professional Liability Attorney Network, Kansas City, MO (2016).
"Has Social Media Investigation Made Surveillance Obsolete?" 10 ways to improve your claim investigation without hiring a retired detective to sit in a van with a camera - Central Claims Executives Association Spring Meeting, Scottsdale, AZ (2015).
The Impact of Social Media on Claims and Litigation - United Fire Group, Spring Claims Seminar, Cedar Rapids, IA (2013)
The Impact of Social Media on Claims and Litigation - Central Claims Executives Association Conference, Nashville, TN (2012)
Legal Issues Panel - Missouri Association of Mutual Insurance Companies Annual Convention (2011)
Future of Missouri's Collateral Source Statute - Missouri Organization of Defense Lawyers Fall Meeting, Kansas City, Missouri (2009)
Legal Issues Panel - Missouri Association of Mutual Insurance Companies Annual Convention (2009)
Closing Arguments - Missouri Bar Annual Meeting, St. Louis, Missouri (2009)
Closing Arguments-The Power of Persuasion - Missouri Association of Trial Attorneys, Kansas City, Missouri (2008)
Critical Trial Skills for Legal Service Attorney - National Institute for Trial Advocacy and American Bar Association (2005)
Insurance Agents' Errors and Omissions - Brooke Insurance Corporation Annual Convention - Las Vegas Nevada (2005)
Nursing Home Malpractice - National Business Institute (2004)
Bad Faith - Cedar Rapids, Iowa (2004)
Voir Dire - Kansas City Metropolitan Bar Association (2003)
Advanced Personal Injury Practice in Kansas - Overland Park, Kansas (2002)
Evidence and Hearsay in the Missouri Courtroom - National Business Institute - Kansas City, Missouri (2001)
Premises Liability - Defense of Violent Criminal Act Cases - Chicago, Illinois (2000)
Trial Techniques - How to Select a Conservative Jury - CPCU Society, Walnut Creek, California (1999)
Handling First Party Property Claims - Missouri Association of Mutual Insurance Companies Claims School - Columbia, Missouri (1998)
Keynote Speaker - Missouri Association of Mutual Insurance Companies Annual Convention, Lake Ozark, Missouri (1998)
Business Torts - Lohrman Education Services - Kansas City, Missouri (1999)
Case Evaluation - Claims Handling in the New Millennium - Employers Reinsurance Corporation - Overland Park, Kansas (1998)
Trial Techniques in the Defense of Nursing Home Cases - Yardley, Pennsylvania (1998)
Closed Head Injuries - Kansas City, Missouri (1997)
Neuropsychological Evaluations to Aid in the Evaluation and Defense of Brain Injury Cases - Dallas, Texas (1997)
Trial Techniques in the Defense of Personal Injury Actions - Kansas City, Missouri (1997)
Insurance Agents Errors and Omissions - Overland Park, Kansas (1996)
Bad Faith - What is it and How to Avoid it - Missouri Third Party Practice Seminar - National Business Institute - St. Louis, Missouri (1995)
Trial Techniques From the Defense Perspective: - Nuts and Bolts Seminar for Newly Admitted Lawyers - Missouri Bar (1993)