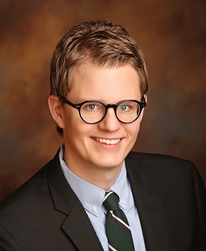 PRACTICES
Insurance Coverage, Bad Faith and Extra-Contractual Liability Litigation
Commercial and Business Litigation
Construction Litigation
Insurance Defense Litigation
EDUCATION
University of Missouri-Columbia, B.A. English, B.A. Philosophy
University of Missouri-Columbia School of Law, J.D.
ADMISSIONS
State of Kansas
State of Missouri
United States District Court, Western District of Missouri
United States District Court, Eastern District of Missouri
United States District Court for the District of Kansas
Tenth Circuit Court of Appeals
Eighth Circuit Court of Appeals
---
Professional Affiliations
Missouri Bar Association
Kansas Bar Association
Kansas City Metropolitan Bar Association
CONTACT INFORMATION

V-Card
Chris is the chair of the firm's Coverage, Bad Faith, and Extra-Contractual Liability practice group and specializes in insurance coverage, bad faith, and extra-contractual liability litigation in addition to practicing all aspects of insurance defense, commercial litigation, construction litigation, and complex, multi-party litigation. Mr. Harper is a member of The Missouri Bar, The Kansas Bar Association, and the Kansas City Metropolitan Bar Association.

Mr. Harper earned his Juris Doctorate, B.A. in English, and B.A. in Philosophy from the University of Missouri - Columbia. At Mizzou Law, Mr. Harper served on the Journal of Dispute Resolution and earned awards for high achievement in Contracts, Lawyering, Education Law and Religious Liberties.
---
Representative Cases:
Progressive Northwestern Ins. Co. v. Gant, 2018 WL 4600716 (D. Kan. Sept. 24, 2018) – Obtained summary judgment on behalf of insurance company in bad faith case arising from what is believed to be the largest wrongful death verdict in Kansas. Claimant, as assignee of the policyholders, asserted inter alia that the insurer was vicariously and directly liable for the alleged malpractice and malfeasance of counsel retained by the insurer to represent the policyholders in a hotly contested wrongful death and negligent entrustment case. The insurer successfully argued that it was not liable for the actions or inactions of defense counsel and, moreover, obtained summary judgment that it fulfilled its duties to defend and indemnify its insureds under the policy.
Progressive Northwestern Ins. Co. v. Handshumaker, 662 Fed.Appx. 630 (10th Cir. (Kan.) 2016) – Obtained summary judgment for insurance company in matter involving allegations of bad faith in denying coverage. The policyholder was involved in an accident while operating a rented moving truck, which was not an insured vehicle under the policyholder's personal automobile insurance policy.
Sexton v. American National Prop. and Cas. Co., 2015 WL 4523823 (D. Kan. 2015) – Obtained dismissal for failure to state a claim on behalf of insurer, concerning claims asserted by alleged insured sounding in breach of contract, breach of duty to defend, estoppel, and bad faith. The putative insured alleged that the insurer wrongfully denied coverage and failed to defend him in connection with claims asserted by a contractor on a residential construction project. The insurer successfully argued that the claims purported by the putative insured to trigger coverage were not in fact asserted in the underlying litigation and, accordingly, there was no coverage or duty to defend or indemnify the putative insured for those claims.
---
Publications:
Article: "Mediator as Peacemaker: The Case for Activist Transformative-Narrative Mediation," published Winter 2006, Missouri Journal of Dispute Resolution.