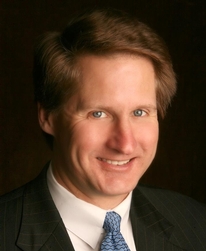 PRACTICES
Personal Injury Defense
Insurance Defense Litigation
Commercial and Business Litigation
Construction Litigation
Employment Litigation
Environmental/Toxic Tort Ligation
Governmental Entity Defense
Premises Liability
Products Liability
EDUCATION
University of Iowa, B.A. (double major in Economics and Philosophy) (1986)
University of Iowa College of Law, J.D. (1989)
ADMISSIONS
State of Missouri
State of Kansas
United States District Court, Western District of Missouri
United States District Court, District of Kansas
United States Court of Appeals, Tenth Circuit
United States Court of Appeals, Eighth Circuit
---
Professional Affiliations:
American Bar Association
Kansas City Metropolitan Bar Association
Missouri Organization of Defense Lawyers
Kansas City Claims Association
Kansas Bar Association
Missouri Bar Association
National Retail and Restaurant Association
Litigation Committee of the Kansas Bar Association - President
Bradley C. Nielsen
Partner
CONTACT INFORMATION

V-Card
Mr. Nielsen is a trial lawyer with significant experience in defending personal injury claims, insurance coverage disputes, and premises liability cases. Mr. Nielsen has also tried numerous civil rights actions, business tort claims, commercial disputes, employment practices matters, and environmental actions. Mr. Nielsen received his Juris Doctor from the University of Iowa, College of Law where he was the Articles Editor for the Law Review. He is permitted to practice in all Missouri and Kansas Courts, the U.S. District Courts for the Eastern and Western Districts of Missouri, the District of Kansas, and the Eighth and Tenth Circuit Courts of Appeals. He is a member of the Missouri and Kansas Bars, American Bar Association, Kansas City Metropolitan Bar Association, Missouri Organization of Defense Lawyers, and the Kansas City Claims Association. In 1999 and 2000, Mr. Nielsen was twice nominated to be a finalist for the Lon Hocker Memorial Trial Award, given to the outstanding trial lawyer in Missouri under the age of 36.

Since 2009, Mr. Nielsen has been recognized as a Missouri/Kansas "Super Lawyer" for Civil Defense Litigation, an honor bestowed on no more than 5% of the lawyers in the state.
In 2004 and 2006, Mr. Nielsen was recognized by Missouri Lawyers Weekly as bringing to verdict one of the top 10 defense verdicts in each year. In 2004, Mr. Nielsen represented an ice machine installer who was alleged to have improperly wired an ice machine causing electrocution injuries. Prior to trial, the plaintiff demanded $750,000.00, and the defense offer was $375,000. After less than 30 minutes of deliberation, the jury returned a defense verdict. In 2006, Mr. Nielsen represented an installer of a wood burning fireplace. The installer admitted at trial the installation was not according to manufacturer's guidelines. Plaintiffs demanded $970,000.00, the total amount of property damage incurred when one mansion completely burned to the ground, and the home next door was damaged in the firefighting efforts. Despite the admissions of faulty installation, Mr. Nielsen argued that there was no evidence of causation. The jury deliberated less than two hours, and returned a defense verdict.

Mr. Nielsen is a member of the National Retail and Restaurant Defense Association and he served on several committees and has given numerous talks with presentations at that group's annual meetings.
Mr. Nielsen believes summary judgments and other dispositive motions often times are underutilized. In the last two years, Mr. Nielsen has received summary judgment or dismissals in seven different cases. Two of those are currently on appeal. Mr. Nielsen also believes that mediation is often an efficient means to concluding a case. Upon in-depth analysis and consultation with clients and insurance companies, mediation can be beneficial and cost effective or all parties involved.
Mr. Nielsen has presented seminars on premises liability, especially on landlord duties and on retailer practices, business torts, and proof of medical special damages. He has prepared papers on fibromyalgia, post-traumatic type claims, and dissecting questionable chiropractic bills and practices. Brad is a member of the American Board of Trial Advocates, an exclusive, by invitation only association of trial attorney and judges.
---
Recent Trials:
Stauffer v. Dollar General, Douglas County, Kansas
Cervantes v. Westridge Lanes, Shawnee County, Kansas
Deselle v. Complete Home Concepts, Jackson County, Missouri
Kindred v. City of Smithville, Clay County, Missouri
Hawthorne v. Hannah, Johnson County, Missouri
Smith v. Chamblin Properties, L.L.C., Jackson County, Missouri
Wright v. Lloyd's All Beverage Control, Jackson County, Missouri
Beck v. Johnson and Exposito, Jackson County, Missouri
Robinson v. Classen Fabricators, Lyon County, Kansas
Nichols v. City of Fayette, Fayette County, Missouri
Hays v. Myco, Inc., Creek County, Oklahoma
Fordyce v. Veach, Grundy County, Missouri
Donaldson v. Rowan, Jackson County, Missouri
Steward v. Neighbors, City of St. Louis, Missouri
Carrender v. Neill's Computer Software, Cole County, Missouri
Beeney v. Eight Thousand Maryland Avenue, St. Louis County, Missouri
Crete Carrier Corp. v. Gary Vette, Atchison County, Missouri
Giles v. Owens and Frito Lay, Jackson County, Missouri
McAffoose v. Rothchild Development Ltd., City of St. Louis, Missouri
Cooper v. Stephens 4-Way, Barry County, Missouri
Shaw v. Brown, Jackson County, Missouri
Baker v. McCollum, Boone County, Missouri
Whittle v. Rebecca's Lounge, Miller County, Missouri
Norma Najera and Teri Shope v. General Pest Control, Inc., Stevens County, Kansas
---
Reported Cases:
State Auto Property & Casualty Company v. Lewis, 2014 WL 1094912 (D. Kan. 2014)
State ex rel Red Cross Pharmacy, Inc. v. Harman, 423 S.W. 2d 258 (Mo. Ct. App. 2014)
Loyd v. Williams, et al., 265 S.W.3d 901 (Mo. App. 2008)
Desselle v. Complete Home Concepts, Inc., 211 S.W.3d 168 ( Mo.App. W.D. 2007).
Smith v. Chamblin Properties, LLC, 201 S.W.3d 582 ( Mo.App. W.D. 2006).
Wilson v. River Market Venture, I, L.P., 996 S.W.2d 687 (Mo.App. W.D. 1999)
Joseph v. Marriott Intern., Inc., 967 S.W.2d 625 (Mo.App. W.D. 1998).
Nguyen By and Through Nguyen v. Haworth, 916 S.W.2d 887 (Mo.App. W.D. 1996).
Anderson v. Accurso, 899 S.W.2d 938 (Mo.App. W.D.1995).
In Interest of D.U.R., 834 S.W.2d 802 (Mo.App. W.D. 1992).
Phoenix Redevelopment Corp. v. Walker, 812 S.W.2d 881 (Mo.App. W.D. 1991).
---
Speaker/Lecturer/Publications:
Does the Merchants' Privilege Protecf the Retailer from Tort Liability (2014)
Using Video Surveillance to Defend Retail Claims (2013)
Understanding and Defending Diffuse Tension Imaging to Support Claims of Traumatic Brain Injury (2014)
Bad-Faith in Missouri and Kansas (2007)
Recent Developments in Missouri and Kansas Law (2007)
Premises Liability in Missouri and Kansas (2006, 2007)
The Merchant's Defense in Missouri and Kansas (2005-2007)
Venues in Missouri and Kansas (2003, 2004, 2007)
Understanding Low Back and Neck Pain (2006)
Analyzing Chiropractic Claims (2005, 2006)
Sitting in the Deponent's Chair – Tips for the Claims Handler (2004, 2006)
Missouri Tort Reform and Its Effect on Insurance Carriers (2005)
Closed Head Injuries and Trauma (2005)
Fibromyalgia, Post Traumatic Stress Disorders, Regional Pain Syndromes, and Other Popular Diagnoses (2003, 2005)
Business Torts and Employment Practices Liability (2004)
Note,
Controlling Sports Violence: To Late for the Carrots-Bring on the Big Stick
, 74 Iowa Law Review 681 (1989)
Cover Article,
Sports in the Law: Controlling Sports Violence
, 26 TRIAL 26 (June 1990) (TRIAL is a National Magazine published monthly by the American Trial Lawyers Association)
Article,
Can your City be Held Liable for It's Citizens' Trash?
, Missouri Municipal Review, May 1993, P.14.