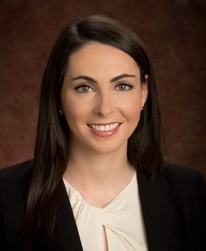 PRACTICES
Commercial and Business Litigation
Insurance Coverage, Bad Faith and Extra-Contractual Liability Litigation
Premises Liability
Employment Litigation
Insurance Defense Litigation
Personal Injury Defense
Trucking & Automobile Litigation
EDUCATION
University of Missouri-Kansas City School of Law, J.D., cum laude
University of Missouri-Columbia, B.A., Anthropology, cum laude
ADMISSIONS
Missouri
Kansas
United States District Court, District of Kansas
United States District Court, Eastern District of Missouri
United States District Court, Western District of Missouri
Professional Affiliations
Association for Women Lawyers of Greater Kansas City
Kansas City Metropolitan Bar Association
Missouri Organization of Defense Lawyers
The Missouri Bar
Kansas Bar Association
CONTACT INFORMATION

V-Card
Joan Sheridan has significant experience defending national hotel chains, residential treatment centers, and religious organizations in wrongful death, sexual and physical abuse, and bodily injury claims throughout Missouri and Kansas. Joan's jury trial experience includes a recent defense verdict in Johnson County, Kansas in a case involving claims of negligent misrepresentation and violations of the Kansas Consumer Protection Act arising out of a real estate transaction.

In addition to helping clients prepare to prevail at trial, Joan is adept at developing a discovery strategy to maximize her clients' chances of receiving summary judgment in advance of trial. Joan obtained summary judgment for a client in a case of first impression in Missouri involving set offs against underinsured motorist coverage. The trial court's granting of summary judgment in that case was affirmed by the Missouri Court of Appeals, Southern District.

Joan's track record of success was recognized in 2021 when she was named a "Rising Star" by Super Lawyer magazine. Only 2.5% of Missouri and Kansas attorneys 40 years or younger or in practice for less than 10 years are given the "Rising Star" designation. Joan was also selected as a member of Ingram's 2022 Class of 40 Under Forty, which recognizes the achievements and promise of the area's young executives, professionals and community leaders in the Kansas City region. In 2022, Joan was honored with a Women's Justice Award from Missouri Lawyers Media as a litigation practitioner. The Women's Justice Awards recognize women across Missouri who have demonstrated leadership, integrity, service, sacrifice and accomplishment in improving the quality of justice and exemplifying the highest ideals of the legal profession.

Joan's recent results include:
Representing a national hotel chain in a premises liability case in St Louis, Missouri where the plaintiff was claiming permanent disability from a fall on a shower ramp. After both sides had the shower ramp inspected and evaluated by engineers, Joan decided to call the woman who actually designed the shower ramp. Joan convinced the designer to travel to St. Louis to testify at trial as a "non-retained" expert witness. After Joan informed the trial judge that the designer of the shower ramp was en route to St. Louis, plaintiff's counsel accepted the settlement offer made at mediation months earlier.
Defending a six-day jury trial to a verdict in Wichita, Kansas involving a claim for the limits of underinsured motorist coverage.
Representing a restoration company in Paola, Kansas against a $5,000,000 claim for mold damage and respiratory injury. After months of discovery battles and the filing of a motion to strike the plaintiff's experts, the plaintiff accepted $5,000 to settle her claims.
Defending a group home against claims by a young man of physical abuse and racial discrimination. Joan undertook great effort to locate the other young adults living in the home and arranged for them to come to trial to refute plaintiff's claims. After Joan listed the other residents as witnesses for trial, plaintiff's counsel accepted the long-standing settlement offer the day before trial was to begin.
Defending a motorcycle manufacturer against employment discrimination complaints filed with the Kansas Human Rights Commission by former employees. At the conclusion of the investigations, the Kansas Human Rights Commission investigating commissioner made determinations of no probable cause in both cases.
Joan serves on the firm's Recruiting Committee which is responsible for the hiring of attorneys and professional staff. She enjoys spending time mentoring young associates at the firm. Joan's proudest accomplishment is being the captain of the firm kickball team which won league championships in 2016, 2020, and 2021.