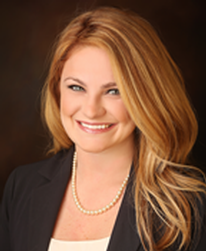 PRACTICES
Insurance Defense Litigation
Personal Injury Defense
Insurance Coverage, Bad Faith and Extra-Contractual Liability Litigation
EDUCATION
St. Thomas University School of Law, JD
University of Missouri - Columbia, BA
ADMISSIONS
Missouri
Kansas
Florida
US District Court of Missouri, Western District
US District Court of Missouri, Eastern District
US District Court of Kansas
CONTACT INFORMATION

V-Card
Ms. Hatley joined the firm in 2014 and practices in the areas of casualty and personal injury litigation, insurance coverage, bad faith and extra contractual liability, equitable garnishment, premises liability, and general civil defense. In addition to second chairing bench and jury trials in Missouri and Kansas, Ms. Hatley has obtained summary judgment on behalf of her clients in both state and federal courts and successfully argued before the Kansas and Missouri Court of Appeals. Ms. Hatley has been selected as a Missouri & Kansas "Rising Star" by Super Lawyers every year since 2017. Only 2.5 percent of Missouri and Kansas lawyers who are 40 years or younger, or in practice for 10 years or less, are named to the list of Rising Stars. Prior to joining the firm, Ms. Hatley practiced in the area of first party insurance defense in Miami and Ft. Lauderdale, Florida.

Ms. Hatley attended law school at St. Thomas University in Miami, Florida, where she was named to the Dean's List and earned an award for the top grade in trial advocacy. Ms. Hatley earned her undergraduate degree from the University of Missouri-Columbia.

Ms. Hatley is licensed to practice in federal and state courts in Missouri and Kansas.

---
Reported Cases:
Stichler v. Jesiolowski, 547 S.W.3d 789 (Mo. App. 2018)
Harlan v. United Fire & Cas. Co., 208 F. Supp. 3d 1168 (D. Kan. 2016)
Boone v. TFI Family Servs., Inc., No. 14-2548-JTM, 2015 WL 5210195 (D. Kan. Sept. 3, 2015)
Jensen v. United States Tennis Ass'n, No. 20-2422-JWL, 2022 WL 1460011 (D. Kan. May 9, 2022)
Est. of Stein by & through Stein v. Scott's Welding Serv., Inc., 508 P.3d 407 (Kan. Ct. App. 2022)
Osborn v. Kansas Dep't for Child. & Fams., 509 P.3d 597 (Kan. Ct. App. 2022)
Progressive Nw. Ins. Co. v. Weis, 561 F. Supp. 3d 1124 (D. Kan. 2021)